Register to win a trip for 2 to see Ed Sheeran Saturday, October 27, 2018 @ AT&T Stadium in Dallas.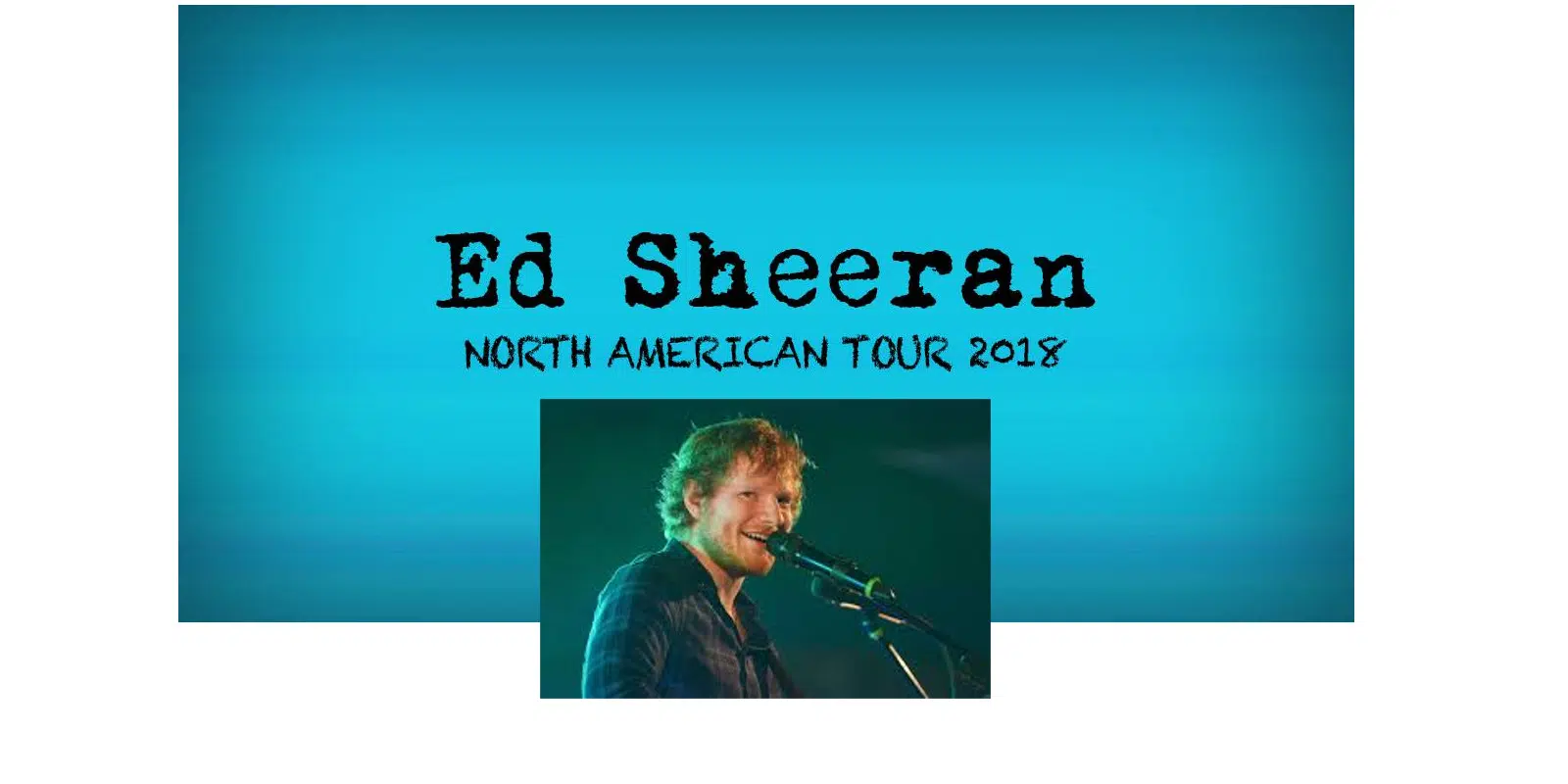 Register at your Ed Sheeran Giveaway Sponsoring Business:
Schalk's Posie Patch–1644 Harrison Ave
Flawless Salon & Medical Spa–4655 Harrison Ave- in the Copper King Hotel
Taco John's–1960 Harrison Ave
Wendy's–3225 Harrison Ave
Steele's–800 S. Wyoming
Laslovich Orthodontics–2400 Massachusetts Ave
Karma Rock Shop–1640 Grand Ave
Freedom Travel–2403 Bayard St
Mile High Motors–3883 Harrison Ave
Opportunity Bank–3401 Harrison Ave
Andrews Orthodontics–1405 Dewey Blvd
5518 Designs–27 N. Main St
Miller's Boots & Shoes–301 S. Arizona
Montana Broom & Brush–1245 Harrison Ave
Butte GM–3900 Harrison Ave
Express Employment Professionals–700 E. Front St
Gillam's Furniture Emporium– 1100 E. Front St
Ed Sheeran Giveaway Rules:
All employees of Schalk's Posie Patch, Flawless Salon & Medical Spa, Taco John's, Wendy's, Steele's, Laslovich Orthodontics, Karma Rock Shoppe, Freedom Travel, Mile High CJD, Opportunity Bank, Andrews Orthodontics, 5518 Designs, Miller's Boots & Shoes, Montana Broom and Brush, Express Employment Professionals, Gillam's Furniture Emporium, and Butte GM are not eligible, may not enter, and will forfeit any claim to prizes.
 All employees and immediate family of employees of KGLM "Magic97.7/100.3" and Butte Broadcasting Incorporated are not eligible, may not enter, and will forfeit any claim to prizes. Immediate family refers to mother, father, brothers, sisters, husband, wife or children of an employee of Butte Broadcasting Incorporated.  This rule refers to anyone employed at Butte Broadcasting Inc. between January of 2018 and December 2018.
Contestants must be at least 18 years of age and have a valid driver's license or government issued photo ID with them to claim the prize.
 Registration window will be from Monday, August 13th through Sunday, September 24th. Drawing will be broadcasted live on Magic on Tuesday, September 25th.
Contestants may register one time per week at each participating business and may only enter themselves. Excess registrations will be destroyed. Incomplete registration forms will be taken out of the drawing.
The prize is a trip to see Ed Sheeran in Dallas. Trip includes roundtrip airfare for 2, accommodations for 2 nights, and 2 tickets to see Ed Sheeran in concert on Saturday, October 27 at AT&T Stadium. Only this prize will be given away. Prize has no cash value. All other expenses incurred are the responsibility of the winner.
 In case winner does not qualify KGLM "Magic 97.7/100.3" will continue to draw from the remaining registrations until a qualified winner has been selected. No substitutions or transfers of prizes will take place. No purchase is necessary for the promotion.
Butte Broadcasting Incorporated and our sponsors are not liable for any injury or damage that may be caused by the use of this prize. Winner is responsible for taxes.