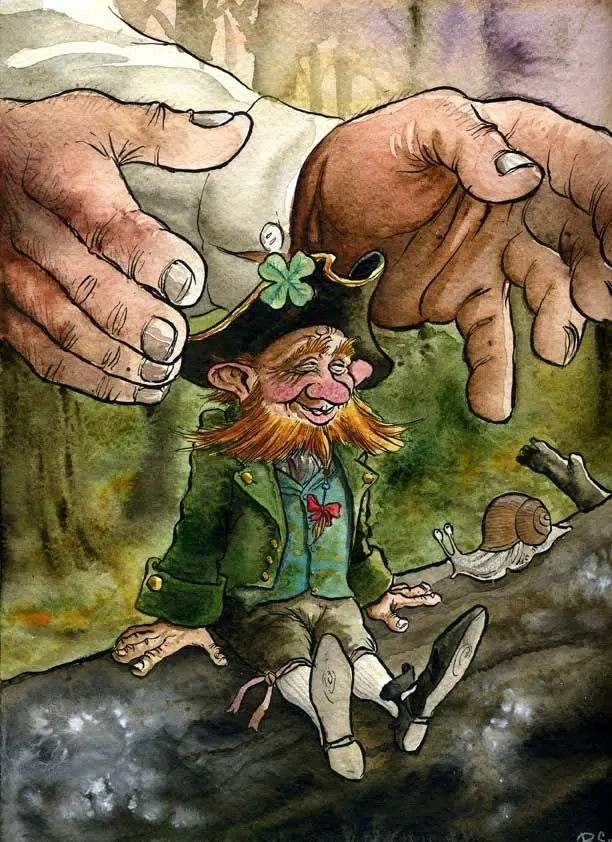 Happy St. Patrick's Day!!!  When you think of St. Patrick's Day, you are probably reminded of the familiar icon of Ireland, the leprechaun.  The leprechaun is one of the world's most recognized mythical creatures of Irish folklore.  He is known as a green-clad, little man who will reveal the location of his gold to anyone who catches him.  But if you're truly interested in creatures from the Emerald Isle, here's a look as some lesser known, but just as fascinating, creatures of Irish Folklore.'
Abhartach- This truly terrifying dwarf is a cruel tyrant whose magical powers allow him to rise from the grave and cause havoc as an undead being.  It is said the only way to subdue his powers is to kill him, then bury him upside down.  In some readings of this myth, this creature drinks the blood of his victims.  He is believed to be the monster that inspired the creature known as "Dracula".
Far Darrig- This small creature is known to always dress in a red coat and cap.  In Irish, his name appropriately translates to "Red Man".  Thought to be associated with nightmares, this monster delights in stealing babies and leaving changelings in their place.  In Irish folklore, a changeling is believed to be an ugly, stupid or strange child left in place of a pretty, charming child.
Banshee-  This spirit comes in the form or a wailing woman.  She is said to appear to family members to foretell the upcoming death of one of their loved ones.  It is said that only those of pure Irish blood can hear here screams.
Fear Gorta-  Literally means "Man of Hunger" in Irish.  During times of famine, it is said this supernatural being roams the Earth in the form of a starving man.  He is found begging for food and gives good fortune to those who help him.